What to do when the crisis call comes in.....

So, My Mother in Law called and said she was coming over tonight to see the kids....OMG! THE HOUSE LOOKS LIKE A TORNADO HIT IT!!!
I don't know about you, but I've considered doing one or more of the following multiple times:
Fake an illness
Hide
Run away
Burn the house down
Throw away EVERYTHING
Panic
Cry for an hour
Just take a deep breath and realize, your house isn't messy, you just have Laundry all over every piece of furniture she could sit on, the baby is missing the toilet bowl, and the dog decided that the trash was a good place to find her something to eat!! AGAIN!
UGH!!! Adulting!
Well we are here to help you with a few tips on how to "Keep your House Clean". If you just do these five things every day, next my M-I-L calls I won't have a minor stroke from anxiety. :)
How to Keep Your House Clean – 5 Things to Do Every Day
The Kids are out of school so now more than ever it's that time of getting clean and organized – so get ready to get your home in tip-top shape! I'm going to show you Five Things to Do Every Day that make home-keeping easier and more enjoyable. (Yes, it can be enjoyable!) These are five tasks that are easy to do, but it takes consistency and commitment to actually make them a habit.
How to Keep Your House Clean
Laundry – Do at least one load a day. When laundry is done every day, the loads are smaller and more manageable – no more mountains of laundry.
Clear Clutter – I do a quick de-clutter every day. This usually consists of opening mail, filing bills etc. The kids do a quick toy clean up… with some help and reminding, of course.
Wipe Down the Counters – The kitchen counters get wiped down as needed after meals and dishes are put in the dishwasher. No dishes piled up on the counters (most of the time) really helps the overall cleaned up look of the kitchen. I also wipe down bathroom counters as needed during the week.
Sweep Floors – I do a quick sweep of the kitchen floor, usually after meals. (Don't be afraid to get your kids to help with this!) Sweeping the floors keep them clean during the week in between weekly vacuuming and floor washing.
Write it down – Don't underestimate the power of a to do list! Whether you are writing things down in a simple notebook, with free printable s, or your home-keeping binder, keeping track of your tasks is a great way to see what you've already accomplished and what you need to do next.
Stay "Happy, Clean ,and Organized !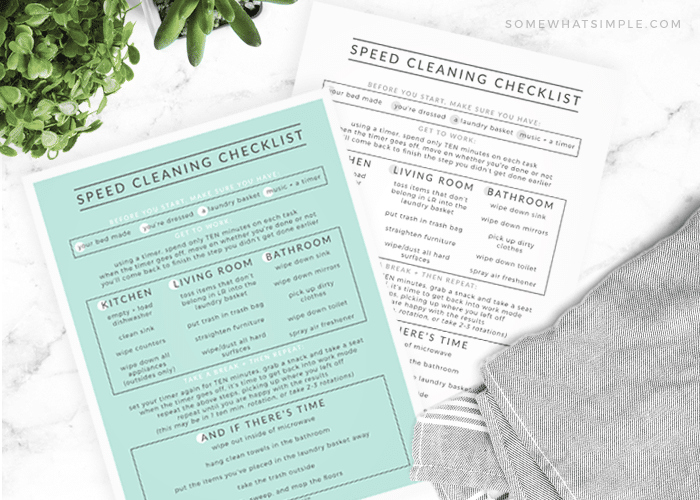 About the Author: This post was written by Becky who blogs about all things clean, organized and domestic at Clean Mama. She is a former art teacher, turned work-at-home mom that keeps it "all" together with a good list and a cup of coffee.