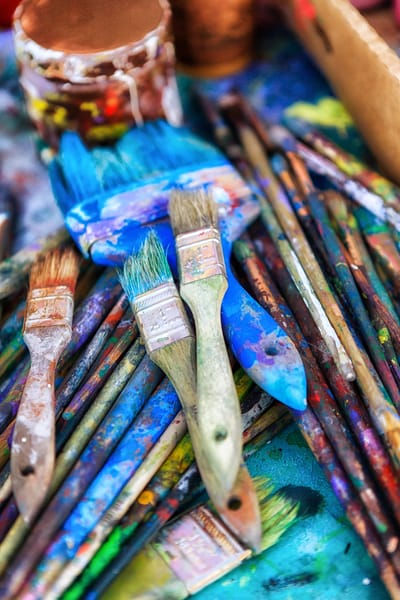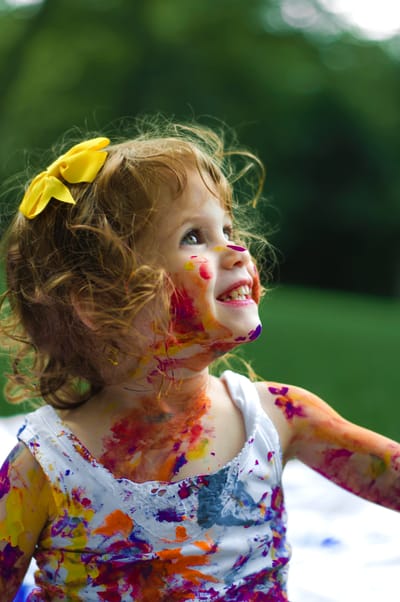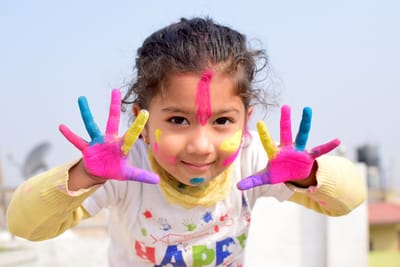 HOST A MEMORABLE PAINTING PARTY FOR KIDS-THE SIMPLE WAY <3
Gather a few materials in advance of your party:
fresh paints (choose washable options for kids)
paper plates for paint
new paintbrushes
canvases (high quality paper that can be framed is good too, but I can attest that there's a magical 'big kid' appeal when you give a child the opportunity to create on a real canvas)
water (for cleaning brushes)
paper towels for cleanup
easels
Paint palettes can be found at many craft and supply stores (both the classic wooden oval variety and plastic palettes with divided wells), but if you want an even more cost-effective option, use paper plates. For added appeal, use an utility knife to cut a circle as a thumb hole in your palette.
Easels are another must-have that can be hard to find affordably when you need multiples. To allow seven kids to simultaneously paint on the 11" x 14" canvases, I built a long easel ledge that extended the full length of the table. I used bolts, dowels and scrap 1 x 2 boards to assemble the easel.
Find an assortment of paintbrushes for your guests, and don't underestimate how many the kids will manage to use in a single painting party. Be on stand-by to help rinse the brushes too, to minimize post-party clean-up and keep the utensils from drying out with paint on the brushes.
Choose a theme for the night, and encourage the kids to paint to that theme. Another popular option is to select a single, professional work of art and allow the kids to replicate it in their own style.
Helpful tips:

Sketch with pencil first! This will help kids plan and execute their vision.

Keep a hair dryer in the room. Blast the artwork periodically to help expedite the paint dry time so that colors can be layered without smudging together.

Be sure each child puts their name on their finished art – either on the wooden frame on which the canvas is attached, or in the lower corner on the front.

At the end of the party, make some beautiful memories and don't forget to take a photo with all of the kids standing together, displaying their artwork.