DIY Fall Home Decor..
Hurricane Popcorn Table Decoration
Looking for a fast and easy decoration for your tabletop for fall? What could be easier than this hurricane lamp popcorn table decoration? This pretty vignette is made from supplies you may have on hand or outside and looks wonderful on the dining room table. It is perfect for a fall table and can be used right through the holiday season.
To make this centerpiece you will need just a few items: (these are affiliate links to Amazon, but check your dollar store too. They often have some of these things during this time of the year.)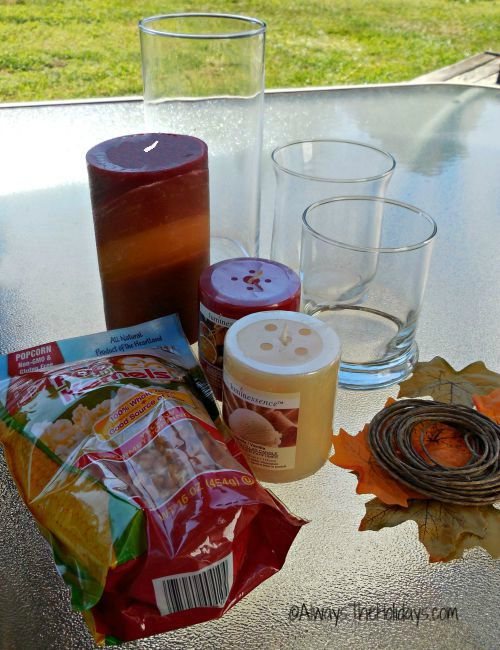 3 hurricane glass candle holders. You can also use some plain wide glasses of different heights
3 pillar candles just a bit smaller than the width of the holders. Any colors will do. I used complimentary colors.



2 feet of plain jute twine
4 Silk leaves in autumn colors. Real leaves would work fine too but would get brittle if the display is left too long.
Bag of unpopped popcorn
Autumn Floral Pick

The table decoration is super easy to make. Basically, it's just pouring, tying leaves and using something to add height.

Start by pouring some popcorn in the bottom of the glass holders. Measure to make the candles as near to the top as you would like them. Then place the silk leaves on the candles and tie with a piece of the jute. I used one leaf for the smaller candles and two for the larger one.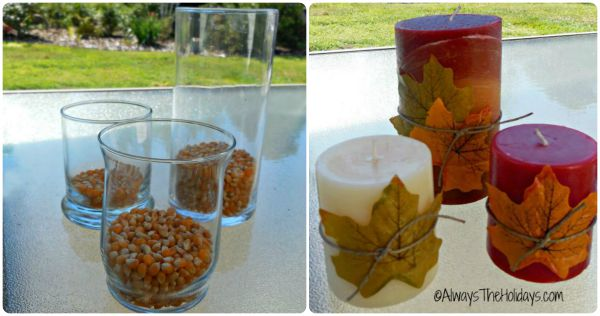 Slip the candles down into the glass jars and pour a little bit more popcorn around the base of each candle. Arrange the candles in a pleasing decoration. I used an up turned glass bowl to give me the middle height since I had two smaller glasses of a similar size. Place the autumn pick or loose autumn leaves and pinecones at the base of the decoration.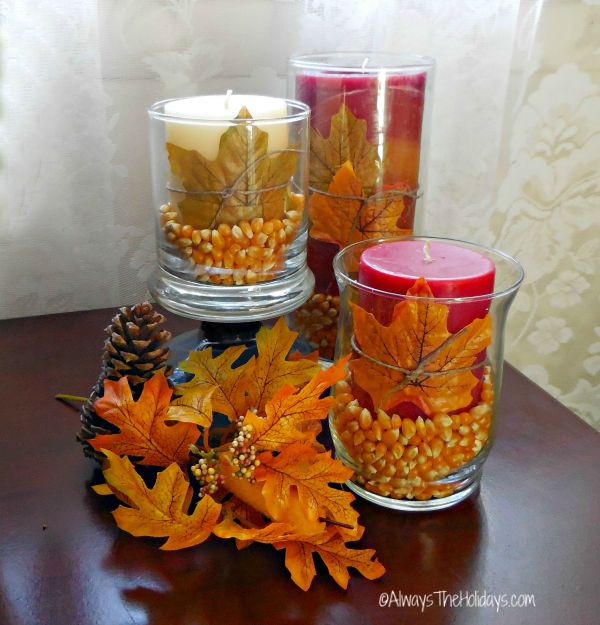 Follow hundreds of More Creative Ideas with SImply Mommies on pinterest @ www.Pinterest.com/SImplyMommies3